Vitamin C Serum for Face -Everything You Need To Know
When it comes to skincare, there is one Holy Grail product that is a part of almost everybody's skincare routine, and that is vitamin C! Vitamin C has been crowned as one of the best anti-oxidant ingredients in the market, and rightfully so. From slowing down your skin's ageing process to adding a juicy glow to dull and lackluster skin, it is no surprise that vitamin c serums, sheet masks, face creams, and other vitamin C skincare products specially vitamin c serum for face have steadily made their way to shelves all across the globe. But what exactly are the benefits of vitamin C for skin? And what vitamin c skincare products should you add to your skincare regime? Here is everything you need to know about using vitamin C for skin.
What exactly is vitamin C?
When talking about skin, vitamin C (also known as ascorbic acid and L-ascorbic acid) is a water-soluble antioxidant and an essential nutrient that protects your skin against free radical damage and improves your skin's health. Vitamin C is also required for the growth and repair of tissues in your body. The human body does not naturally produce vitamin C but sources it from vitamin C rich fruits and vegetables. Vitamin C skincare products are a way of topically supplying vitamin C directly to the skin. Your skin reaps the biggest benefits of vitamin C when it is applied topically in its most potent and concentrated form.
What are the Benefits of Vitamin C Serumfor Face?
Where do we even begin! Vitamin C is a powerhouse, packed with so many skin-loving benefits that it is hard to choose just a few to add here. Here are some of the many benefits of vitamin c for skin
i. Vitamin C fights free radicals
Sunlight, stress, pollution, UV rays, and other environmental aggressors create free radicals in the skin that damage the dermis (the skin tissue that gives your skin its elasticity and strength), moisture barrier, cell functioning, and the skin's texture and colour. Vitamin C is an antioxidant that attacks and neutralizes these free radicals and protects the skin against environmental aggressors.
ii. Vitamin C for anti-aging
Vitamin C plays a crucial role in the collagen synthesis of your body. Collagen is a protein that provides structure to your body, including your skin. When your body's collagen production slows down, your skin starts losing its firmness and elasticity and starts to sag. Fine lines and wrinkles also crop up on your face making you look old and tired. Vitamin C is a natural collagen booster that in turn improves your skin's elasticity, texture, and quality making it look tight and young.
iii. Vitamin C quenches dehydrated skin
Vitamin C and its derivatives exhibit hydrating properties and are shown to decrease trans epidermal water loss – i.e. it strengthens your skin barrier, helps your skin lock in the moisture, and prevents moisture loss from your skin's surface. Hydrated skin is healthy skin that looks plump and feels soft and smooth.
iv. Vitamin C brightens your complexion
Probably the most popular benefits of vitamin C is its skin brightening properties. UV rays and pollution are known to damage the skin by making it look dull, tired, and lackluster. Vitamin C acts as a brightening agent that improves the appearance of dull skin by giving you a more even and bright complexion with a natural glow from within. Vitamin C skincare products, especially concentrated vitamin C serum for face instantly brighten up your skin tone and add a natural luminance to your complexion, making your skin look and feel fresh.
v. Vitamin C reduces dark spots and hyperpigmentation
The brightening properties of vitamin C also extend to fading dark spots and lightening hyperpigmentation. Vitamin C inhibits the pathway of abnormal production of skin pigments (melanin) to even out the skin tone and lightens dark spots, sun spots, acne scars, blemishes, and hyperpigmentation due to melasma. This unique anti-spot property of vitamin C lightens dark spots without altering your normal skin's pigmentation.
How can you add vitamin C into your daily skincare regime?
If the benefits of vitamin c for skin have convinced you and you are ready to jump on the vitamin C bandwagon, here is how you can incorporate vitamin C products into your daily routine for healthy and glowing skin.
Step 1: Wash Your Face
Morning or night, it is important to clean your face before starting your skincare routine. Dead skin cells, sebum, and skincare products from the previous night are accumulated on your skin overnight, so it is important to wash your face in the morning. And all the sweat, environmental aggressors, oil, and makeup can clog your pores throughout the day, which is why going to bed without cleaning your face is a big no-no. A sneaky way of including this potent skin-loving ingredient in your daily routine is by using a face wash with vitamin c. Vitamin c facewash not only gets rid of toxins and impurities from your skin, but also reduces dullness and helps bring back your glowing complexion.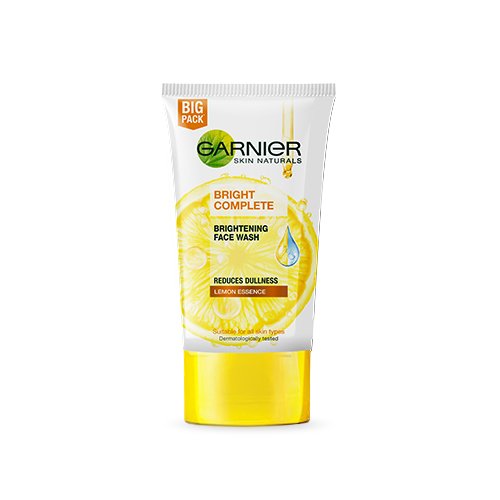 Step 2: Apply a Vitamin C Serum
Vitamin C Serum for face are popular for a reason – they really work! Vitamin C serums have a high concentration of vitamin C which is why they are the most loved and most commonly used method of delivering vitamin C to your skin. To give your skin an instant and intense dose of Vitamin C, try the vitamin c serum on freshly cleansed skin, morning and night.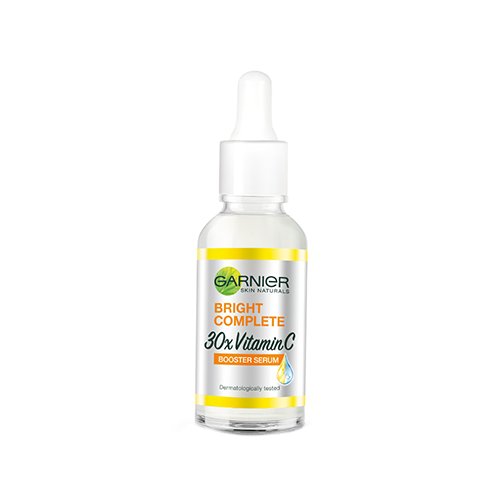 Step 3: Use a moisturizing face cream
No matter your skin type, you have to use a rich and nourishing face cream to hydrate your skin and lock in the moisture. Rich and nourishing face cream is another popular vitamin C skincare product that delivers a healthy dose of vitamin C to the skin while also keeping it hydrated and nourished.
AM - Use vitamin c serum and follow up with a good vitamin c serum cream containing SPF 40 in the daytime. This will not only visibly lighten 3 types of spots (dark spots, pimple spots, and UV spots) but also protect your skin from the damaging sun rays.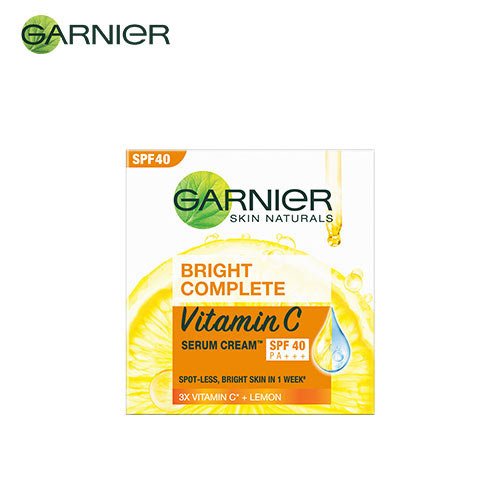 PM – Your skin cells get to work and rejuvenates your skin when you hit the sack at night. Aid this skin repair process by adding a vitamin c night cream to your routine. This will exfoliate dead cells and brighten the skin overnight so you wake up to lighter spots, even skin tone, and a natural, healthy glow.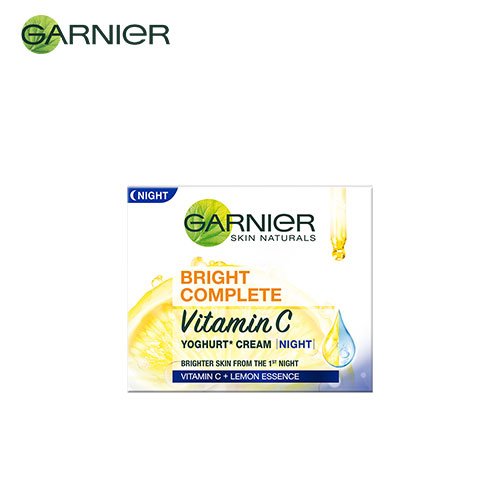 Step 4: Apply a nourishing Vitamin C body lotion
While you're busy pampering your face with all the goodness of Vitamin C, don't forget to hydrate and moisturize the rest of your body too. A body lotion seals moisture into the skin and softens dry skin, especially rough elbows and heels. Try a moisturizing lotion infused with Vitamin C to intensely moisturize your skin, brighten skin tone, and lighten dark spots. To use, simply pour the lotion into your palms and spread evenly all over your body, morning and night.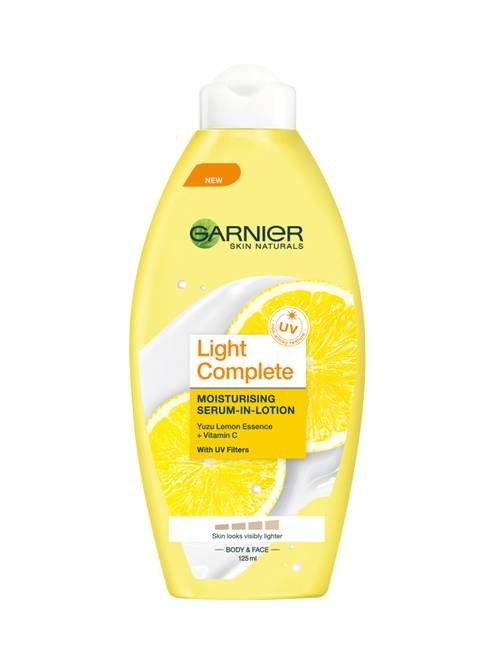 Bonus Step: Treat your skin to a Vitamin C Sheet Mask
Feeling fancy and want a spa-like facial at home? Treat your skin to a relaxing at-home spa day with a vitamin C face mask. Infuse new life into tired skin with vitamin c serum sheet mask and give your skin an instant glow! Some people like to start their day with bright and glowing skin while some like to use a sheet mask to unwind at the end of a long, tiring day. So use vitamin c serum sheet mask two or three times a week in the morning or night on freshly cleansed skin, before your Vitamin C serum and moisturizer, for healthy and radiant skin.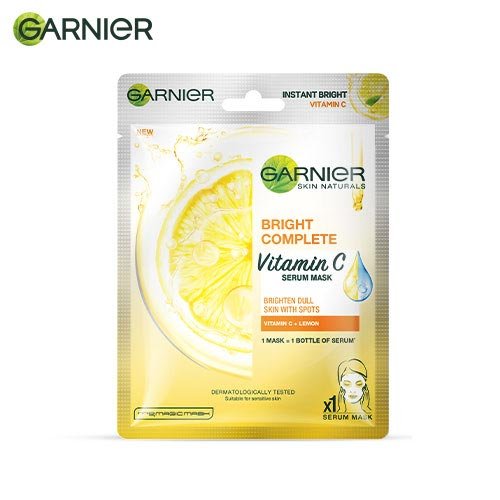 While vitamin C is safe to use for all skin types, we recommend performing a patch test with any new vitamin C skincare product that you try for the first time, especially if you have hypersensitive skin. And if you are just starting with vitamin C products, remember to choose products with a lower concentration of vitamin C and then gradually work your way up. The Garnier Bright Complete range of vitamin C skincare products are dermatologically tested to be safe for all different skin types. And remember, consistency is key when it comes to any skincare product. Use vitamin C products every day to enjoy the benefits of this skincare superstar!