The Ultimate Sheet Mask Guide
Originating from Korean skincare routines, it did not take long for sheet masks to quickly become a global trend. If you are only just hearing about sheet masks or want to get better at making them a part of your skincare regime, we have got you covered! Read on to learn the complete A-Z of sheet masks and why this easy-to-use product should be a part of your skincare routine.
• What Is A Sheet Mask?
Like the name suggests, a sheet mask is a sheet made out of a fiber, cotton, pulp, or gel that has holes cut out for your eyes, nose, and lips, and resembles a mask. People often tend to confuse sheet masks with face masks. Sheet masks are powder or pastes that need to be applied on the face as a thick layer and washed off when it has dried.
Sheet masks, on the other hand, are soaked in serums and enriched with different natural ingredients that address a variety of different skin concerns. This makes the sheet masks have a high concentration of the active ingredients and serum than what you would use traditionally in one application. Sheet masks are convenient to use and travel with as each sheet mask is individually packed.
Depending on the type of sheet mask you pick up, its ingredient list can vary. A common ingredient that almost all sheet masks will contain is water. Apart from that, some of the common active ingredients used in the serum of a sheet mask are hyaluronic acid, lemon extracts, green tea, vitamin C and activated charcoal
• How Do You Use A Sheet Mask?
Even though it might seem like a sheet mask is fairly easy to use, following the right steps during its application will help you get the most out of your sheet mask. Before you apply a sheet mask, it is very important to make sure you have a clean face that has no traces of makeup, oil, dirt, or any impurities. Face cleansing will help the serum from the sheet mask get absorbed in your skin better.
Now that your clean base is ready, cut or tear open the packet and take out the sheet mask. But be careful – since sheet masks are drenched in serum before they are packed, they often come out dripping wet and the last thing you want before you sit down to relax with a sheet mask is a liquid-y mess. Place the sheet mask on your face by lining up the cutouts to the appropriate spots on the face. If you have any folds or air bubbles on the mask, smooth them out and ensure the sheet mask is clinging firmly on your skin
Keep the sheet mask on for around 15 – 20 minutes. The timings may vary depending on the brand and type of sheet mask. Carefully remove the sheet mask once the time is up. Toss out the sheet mask and gently massage in all the excess serum on your face. Using small, circular motions, help the serum get absorbed into your skin.
The best part about sheet masks is you can use them as often as you like, even every day if you want to. Use a sheet mask at least two to three times a week to really let your skin benefit from all the active, natural ingredients and the hydrating serum in the sheet masks. This also gives you the opportunity to try out a different sheet mask every time.
• What Are The Different Types Of Sheet Masks?
With the huge variety of sheet masks available in the market today, it is easy to get overwhelmed and not know which one will suit your skin best. Selecting the right kind of sheet mask for your needs becomes very easy if you know the kind of skin you have or the skin problems you are trying to correct. Here are some of the most common sheet masks that you can choose from –
1. Hydrating Sheet Mask – For Dry Skin
One of the most common benefits of a sheet mask is the intense boost of hydration it provides to your skin. If you are on the search of a sheet mask for dry skin, get yourself a hydrating sheet mask.
You can try the Garnier Hydra Bomb Pomegranate Serum Sheet Mask for your dry skin woes. Enriched with pomegranate extracts, the Hydra Bomb Pomegranate Serum Sheet Mask restores your skin's moisture and intensely hydrates your skin. In just 15 minutes, your skin is infused with moisture that leaves it feeling soft and plump.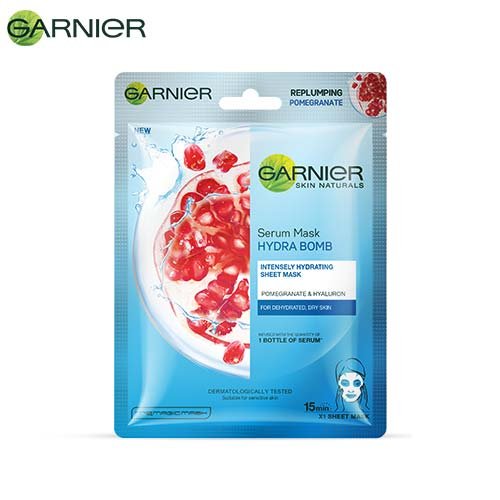 2. Oil Control Sheet Mask – For Oily and/or Acne Prone Skin
Apart from dealing with excess oil or sebum production, people with oily skin are also prone to acne. Oily skin tends to have large open pores that easily trap dirt, impurities, sweat, etc that cause breakouts. Sheet masks for oily skin help in controlling the extra oil production and reducing the resulting acne. A good sheet mask for oily skin should help get rid of the excess sebum without drying your skin out.
We recommend the Garnier Hydra Bomb Green Tea Serum Sheet Mask that is created especially for oily and acne prone skin. Use the Green Tea Serum Sheet Mask in your weekly skincare routine to control oiliness and soothe your skin. The green tea in the serum sheet mask helps hydrate and purify your skin.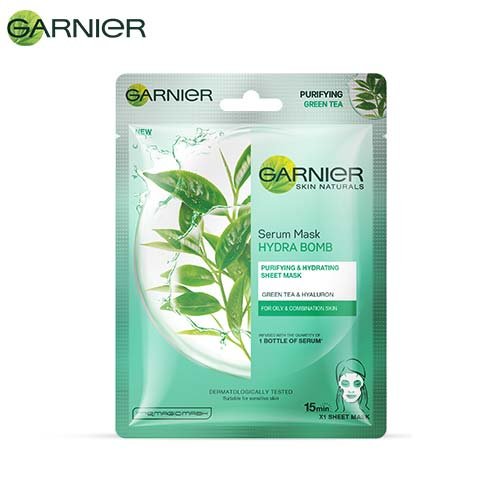 3. Brightening Sheet Mask – For Dull Skin with Spots
Stress, poor lifestyle habits, and overexposure to the sun for prolonged periods are some of the few ways in which your skin can develop spots, or become dull and tired-looking over time. Your skin lacks the glow it once had and has a lackluster appearance. A brightening sheet mask might just be what you are looking for.
It does not matter if you have dry, oily, or combination skin, anybody can have a dull complexion that sometimes needs an instant pick-me-up. The Garnier Bright Complete Serum Sheet Mask targets dull skin and dark spots. Infused with lemons and rich in vitamin C, the Bright Complete Serum Sheet Mask reduces the appearance of spots and instantly brightens your skin while also hydrating it. All of this in just 15 minutes.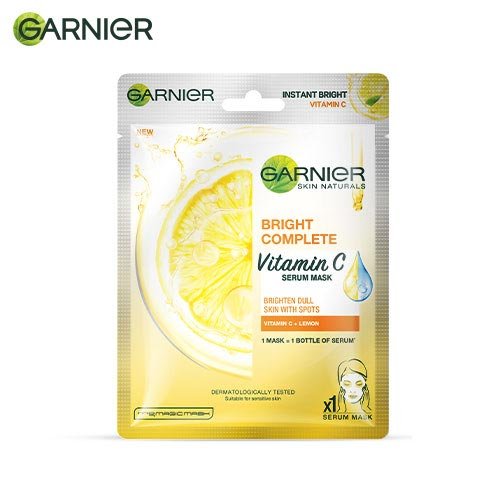 4. Detoxifying Sheet Mask – For Clogged Pores
Pollution, sweat, and dirt can clog up your pores and make your complexion look dull and worn out over time. Look for a sheet mask that will target these impurities and help unclog your pores. Sheet masks for clogged pores and dull skin can also work on reducing the size of your pores and minimizing its appearance.
Try the Garnier Pure Charcoal Serum Sheet Mask to detoxify your skin and clear the clogged pores. The charcoal draws out impurities and toxins from your pores and helps firm up your face. The sheet mask is also enriched with Black Algae Extracts that intensely hydrate and purify your skin.
• Dos And Don'ts Of Sheet Masks
Even though sheet masks are fairly intuitive to apply, some simple hacks will help you get even more out of your sheet masks. Here are a few things to keep in mind the next time you use a sheet mask.
1. Do not rinse your face after you remove your sheet mask. The sheet mask leaves behind some leftover serum residue that your skin might not have absorbed while it was on your face. Rinsing or washing your face after you take off your sheet mask is like washing all this rich goodness away. Instead, massage the excess serum into your skin.
2. Do not let your sheet mask dry out on your face. If the sheet mask has a time mentioned in the instructions on the packet (usually around 15 minutes), make sure to take off your sheet mask when the time is up. Leaving your sheet mask for much longer will result in it having the opposite effect. The dried out sheet will start to reabsorb the serum that is sitting on your skin and might also pull out some of the moisture from your skin.
3. Do check the packet for some extra serum. Since the sheet masks are highly concentrated and drenched in serum, often sometimes not all of it is absorbed into the mask and can seep out into the packet. This extra serum can easily be applied on your neck or even on your hands and elbows. Easy extra nourishment for your skin with no additional products!
4. Do apply the rest of your skincare products as usual. Once you are done massaging the extra serum from the sheet mask onto your skin, continue with the remaining steps of your skincare routine as you normally would. Moisturisers, under eye creams, sunscreens, etc. will help lock in all the great ingredients that the sheet mask just left behind.
5. This one is for all the men out there – do not miss out on sheet masks! Men tend to have skin that is thicker and more textured than women's and a super hydrating sheet mask from Garnier is a quick and highly effective way to nourish your skin. Do not fret if you cannot find a product that exclusively markets itself as a "sheet mask for men", sheet masks for women will work just the same for you as well. Just pick one that you find suitable for your skin type and you are all set. We recommend the Garnier Pure Charcoal Serum Sheet Mask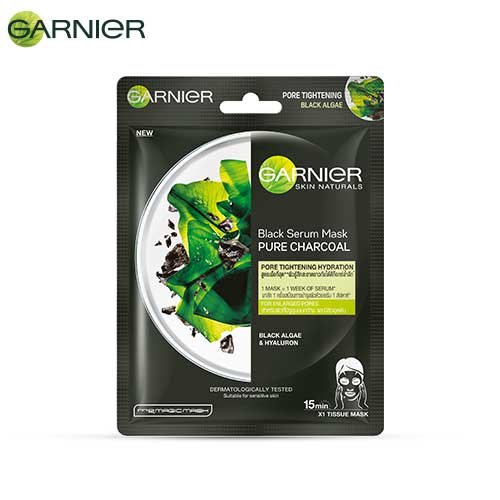 We hope that you now have a much better understanding of sheet masks and how they can benefit your skin. From picking the right kind of sheet mask to some simple sheet mask tips and tricks, you are now ready to level up your skincare routine by incorporating sheet masks in it. Sheet masks not only benefit your skin but are also an easy way for you to take some time out of your busy day to unwind while you pamper your skin. Head over to Garnier's website and check out our range of sheet masks, you are sure to find one for each of your skin's needs! Happy sheet mask-ing.